I thought you said you wanted a "Bunny"?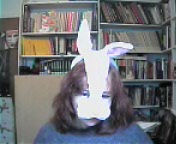 Easter 2002
Things I find fun:

Farmer's Market
Shakespeare in Park
Canton 1st Monday
Science Place
(Always wanted to try)Whirlyball
Whole Foods,Fiesta,Central Market
Make your own Teddy Bear Store
Parks, Parades & Picnics
Hi Impact Sports such as Frisbee & Pingpong
West End Marketplace
Meandering, Aimless Walks
Exploring New Places
Drinks at the Top of Reunion Tower
Venti Latte at Starbucks w/a good book
Dave & Busters
Putt Putt
Bowling and Pool
Rangers & Burn Games
Fireworks (yes, I DO have some)

etc....

Now that my only child is old enough to do most things on her own, I miss many things in life - I've missed most of the recent theatre movies, although there were lots that interested me when I read about them. I like doing stuff with kids...have to borrow my nieces to make a legitimate appearance at Chuck E. Cheese or the Circus. Only been to to Six Flags once in 3 years (Titan Rocks!)although I did take daughter Lu to Fiesta Texas twice last year (Superman Rocks!). I like Balloon and Wildflower and other local festivals, I like weekend trips to Galveston and San Antonio. Went to River Parade for Thanksgiving. Hoping for New Orleans weekend around end of April. Wanted to go to SXSW in Austin but didn't make it. We may trade in these smaller forays for a big trip to Sorrento, Italy in June. The family vote is still out on that one.

I'm big on holidays and traditions. See rabbit picture for evidence. My office has an annual holiday on the opening day of the state fair. Sure, my daughter/friends do some of these things with me; Like all good Texas girls, I go to antique shows and craft bazaars with my mom and BBQs at my brother's. I have people over for swimming and, used to be, cards and dominos. Carry Uno in my purse for those occasional pockets of time and opportunity. Art classes w/my mom & daughter. Fact is, there's not really alot that bores me if I am with someone I like.

Weird Skills & Accomplishments:

Fashion whistles from grass. Craft hatbands from Socks. Incidental Related skill: Mobius Strips. Wainscoting and Chair Rail installation. Play the first stanza of Entertainer on Piano (2 Hands!) Candlemaking. Double jointed thumbs. Handy with chopsticks. Make finger rings from dollar bills. Own 50+ craft books and 75+ cookbooks. Plus about another 2000 other books. Read the encyclopedia in alphabetic order. Weird-Al-ish rhyming & assonance ability. Change a white Iris (flower) to blue. Hem skirts with duct tape cannily enough to fool the queen. Grow my own tomatoes & flowers. Bumfuzzled by autos, electrical work, real algebra & calculus, life size carpentry. Weird Science: Can turn a wishbone rubber so no-one wins. And 7-11 coffee creamer burns like regular fireworks. More, more more later.
Who says work can't be fun?
NOT! Reserved, that is. Tino, The Prez, & Sec/Treas, Xmas 2002party
Following is one of Lindsay's Art pieces. She is also responsible for the ceramic head highlighted with blonde me on the photo album page. Sages say talent skips a generation?...Her & my Mom are convinced I have latent talent somewhere...? Must be hibernating with my sewing skills, my gambling luck...I am still looking...for many things. If we lose our curiosity, life WILL be boring.
Art on the hoof: Bosh gets too close to the canvas while Lu is in the throes of creation.